Are your clients burnt out on filling checkout fields on various pages? Online shopping is about comfort and convenience for your clients that sometimes gets complex when it's about completing long checkout forms to shop for a product. Hence, Knowband brings you the Prestashop responsive one step checkout addon. The Prestashop responsive one step checkout addon helps in transforming the site checkout into a responsive checkout popup that triggers when the client clicks on to add to Cart button. Furthermore, Prestashop responsive one step checkout addon permits clients to easily checkout by placing different checkout phases into a single slider popup.
Prestashop responsive one step checkout addon offers different features:
Features:
Single Page checkout 

allows online clients to view the checkout popup simultaneously after clicking on the "Add to truck" button on the item page. Also, this plugin provides an AJAX-based popup.

Furthermore, the online store merchants can permit guests as well as listed clients to checkout without any problem. This 

One Step Checkout Prestashop Extension

 also allows the store admin to enable test mode. As a result, the admin can test the modifications before making it live for clients. 

Using Prestashop responsive one-step checkout addon 

, an online merchant can set the look as well as the feel of the checkout button. Further, the store admin can configure the color of the button background, border color of the button, button text color, and the product name color from the back office.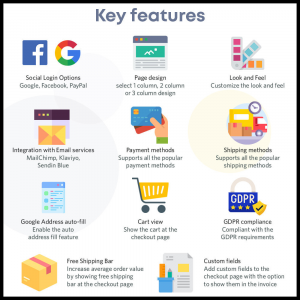 Installation Steps of Prestashop responsive one step checkout addon
To install the module in the store, follow the steps below:
Store merchant need to copy the "SuperCheckout" module folder under your root_directory/modules/of your store via FTP. Merchant can even use the Prestashop interface to upload the plugin.
Once copied, 

Prestashop responsive one step checkout addon 

will be listed on the module listing page. Found in admin panel as shown given below screen.
When module is not displaying on module listing page, merchants can search it by filtering the module using following details.
Keyword: Supercheckout
Author: Knowband
Category: Checkout
Filter by: Installed & Not Installed/Enabled & Disabled
Note:
Merchants need to click on the install button. This way a pop-up box will appear displaying warning messages. Merchants can ignore these messages and move ahead. Hence, the warning message doesn't have a negative impact on your store.
Once Prestashop Supercheckout addon installed successfully, a "configure" button will be displayed in front of the plugin on the module listing page, as displayed below:
User Manual Of 

Prestashop responsive one step checkout addon
Clicking on the configure button of the Supercheckout module, merchants can easily access 

Prestashop responsive one step checkout addon. Hence, after 

clicking, One Page Checkout Prestashop module interface opens up. Also, following screen will be displayed shown below:

Conclusion
Prestashop is one of the widely used eCommerce platforms as it provides incredible themes, features, as well as extensions for store owners. Further, every store merchants wish to offer a smooth as well as fast shopping experience to clients for making business more successful. The checkout process became the key point of this process. Hence, Prestashop One Page Checkout Addon is a right addon.
Prestashop responsive one step checkout addon reduces the additional efforts of the customers. It allows them to complete the checkout process on a single page hence reduces the abandoned cart. Also, the best part that comes with Prestashop one checkout module is Social login. With this feature, users can log in with Google and Facebook login.
The module's free version offers various features of One page checkout module. This module is smart enough to offer clients better security while shopping online. Besides that, it offers a convenient, easy and quick online shopping experience. Further. the addon reduces the time required for checkout.