Before talking about the PrestaShop stock alert module let's understand a few things. An eCommerce store deals with a number of customers who check multiple products daily. Sometimes, when a customer intends to buy any product on the site, they find out that particular is out-of-stock. There's a chance that no online store has an infinite supply of any given product. When a particular product goes out of stock, store owners will refill it. Basically, there can be two main questions that may come to the mind of a store owner while refilling any product's stock, which are:  
When customers visit the store, they find their favorite product currently unavailable. So, the question arises: how will customers be informed about the restocking of their favorite product? 

 

Secondly, how to inform customers about the limited number of stocks left of the product they wish to buy? So, that they can purchase it early rather than being hopeless about its unavailability.

 
Using the PrestaShop stock alert module, store owners' problems of sending stock-related alerts will be solved.
The PrestaShop stock alert module enables owners to send notification alerts to customers through email about restocking their favorite products. All they have to do is when they find any product unavailable, they can subscribe to that product by providing their email ID. This will make the owners' jobs easier because they will be able to simply list out the subscriber list of customers with subscribed products. Further, they can send them alerts about the particular products restocking or the limited number of stocks left.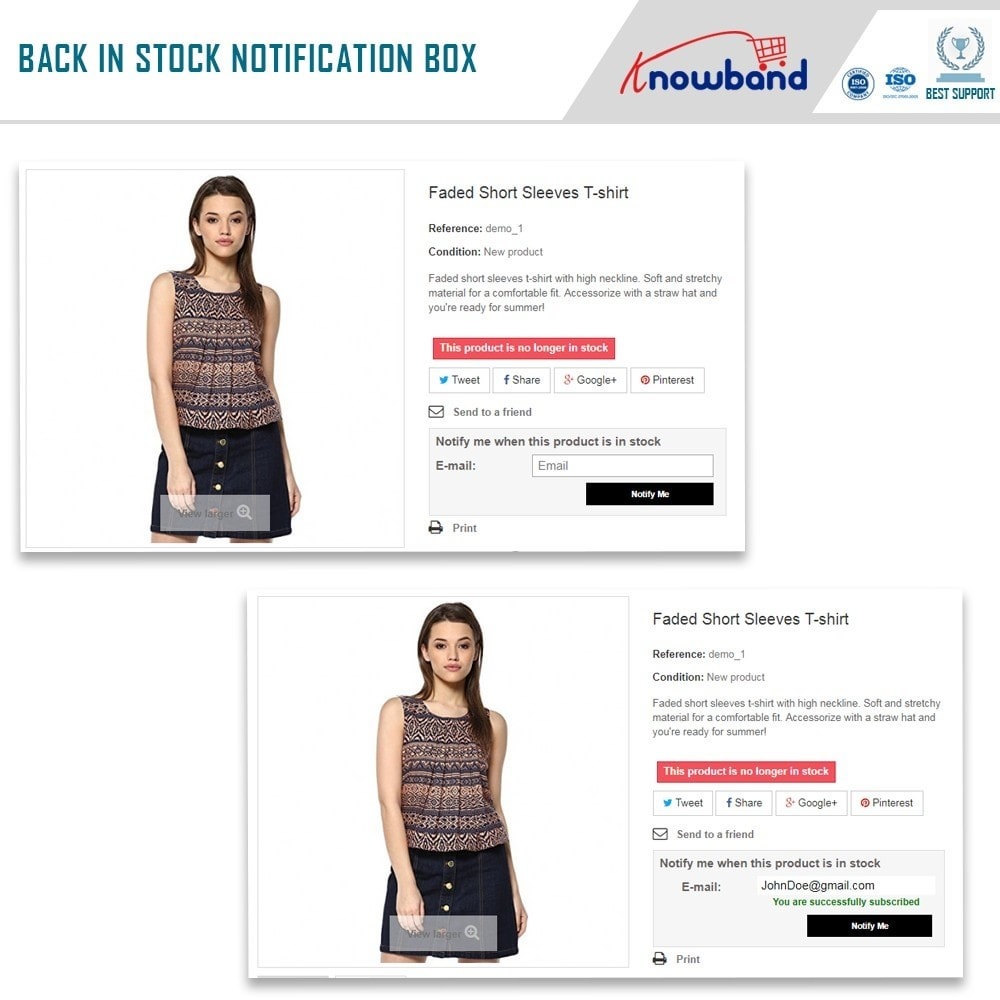 The PrestaShop product stock notification addon will also help customers by automatically receiving alerts about products they subscribed to. With the help of the PrestaShop product alert module, customers will be notified about the product's restocking through their mail. This will help them easily visit the store and purchase that product by accessing the link provided in the mail. Subscribers will also get alerts regarding the finite number of stocks remaining of their subscribed products. So, that they can purchase it as soon as possible. 
To understand the work of the PrestaShop stock notification extension, you can visit the video mentioned below.
Benefits of PrestaShop Back in Stock Notification module 
The PrestaShop back in stock notification module provides authority to the store owner in many ways, like:  
Store owners can decide the number of products after which low stock mail will be generated.

Store owners can access the subscribers' list and remove any subscribers if they want. 

 

They can also integrate their store to MailChimp, Klaviyo, and Sendinblue for various email marketing solutions.

By the PrestaShop back in stock notification module owners can also do newsletter marketing.
The PrestaShop stock alert module also helps store owners to find demanding products in their store. They can figure them out by comparing different customers' subscription lists, so products with most subscriptions are no doubt currently in demand. This will allow store owners to offer discounts on those so that it can be a factor for increasing sales.
The PrestaShop stock notification extension has benefits for both customers and owners, which makes it a worthwhile purchase. Every eCommerce store owner can consider it for their store to have ease in sending alerts about products' restocking to customers. Customers will automatically receive these updates over mail by simply subscribing to the product.  
Where to get the PrestaShop Back in Stock alert module
There are many eCommerce plugin development companies that offer the PrestaShop stock alert notification module in which Knowband is one of the popular names. Knowband is a leading eCommerce plugin development company. It offers the PrestaShop stock alert notification module at a reasonable price. Also, they have a very cooperative support system.