When every other brand is coming up with an eCommerce platform, one has to be very smart and must know how to attract the customer. For any business owner building up a native mobile app for selling products and services online is extremely important because this helps to tap into the multi-trillion-dollar e-commerce market globally.
Smartphones have become the most important part of the lifestyle. Nowadays, people prefer using smartphones for purchasing products as well as services online. Hence, e-commerce store owners should ensure that their online store is responsive enough to attain the attention of customers. A responsive website is responsible for an excellent user experience. However, a native app is far better and should always be considered for purchasing.
Knowband developers have come up with PrestaShop Mobile App Builder for e-commerce websites. PrestaShop Mobile App Builder allows store owners to capture the mindshare.
When it is about building an e-commerce platform, PrestaShop is the right e-commerce solution for that. With PrestaShop, more than 300,000 webmasters create their online store leading to better growth of the brand globally.
FEATURES OF PRESTASHOP MOBILE APP BUILDER
1. PrestaShop Mobile App Creator Offers Synchronized Apps
Prestashop Mobile App Builder for Android and iOS simply creates perfect applications as well as connects them with your e-commerce store. This handles all the store and the burden of app management store merchants. All the updates made on the site are consequently returned on the Prestashop mobile apps.
2. PrestaShop Mobile App Builder Allows Owners To Customize
Design is one of the most important aspects which should be kept in mind while designing a native app. Second, the layout of your e-commerce app should be in a balanced manner. Therefore, we consider PrestaShop Mobile App Maker because you don't want your app to look like a website. This module helps you to keep the customers engaged, build custom navigation to make it simple for your clients to discover and purchase products in your online e-commerce store.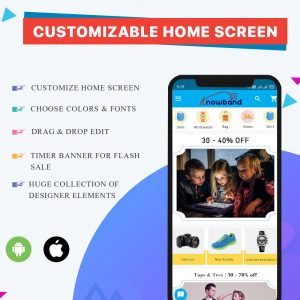 Stores designed by PrestaShop Mobile App Builder are completely responsive and can be used with any gadget.
3. PrestaShop Mobile App Creator Requires Zero Coding Knowledge
The most amazing aspect about the Prestashop Mobile App Maker module is that this mobile app development solution does not require any specific coding. There is no role of technicalities and coding part in the app creation. Store owners just need to purchase and download this module and the rest will be taken care of by the skilled development team of Knowband. PrestaShop Mobile App Creator is one of the most seamless and effective eCommerce mobile app development solutions.
4. Module Offers Quick social login
The Prestashop Mobile App Creator accompanies Facebook and Google+ social login alternatives which permit the client to access the application and browse the e-commerce store.
5. PrestaShop Mobile App Builder Offers Chat support
Prestashop mobile apps offer an inbuilt chat feature that reduces the barrier between the store admin and the buyers. Using this feature, users can ask their queries from the store admin any time of the day. Just like Zopim, this feature includes Whatsapp chat as well.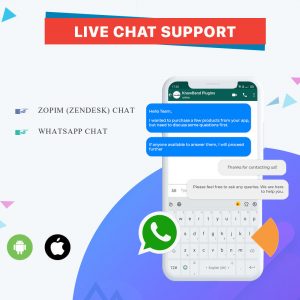 NEW FEATURES IN UPDATED VERSION
1. Brand Promotion
These days, branding is perhaps the best procedure to build reach among clients of different platforms such as mobile or desktop clients. Moreover, the Prestashop Mobile App Builder helps in increasing brand awareness among mobile app users. Also, this module offers features like displaying the brand logo on the header of the mobile apps and the design of the apps.
2. Offers Unlimited push notifications
The unlimited push notification tool offered in Prestashop mobile apps permits simple advertising of store items.
3. Order tracking
The updated version of PrestaShop Mobile App Builder allows proactive order tracking features so that customers can view the status of orders placed earlier.
Conclusion
Thus, remember the tips mentioned above while selecting a mobile app builder. If you are running an e-commerce store already based on the Prestashop platform, now is the time to take the next step, building your native app for android and iOS platforms.
The readymade Mobile App Builder is also available for WooCommerce, Magento 2 & OpenCart eCommerce platforms. Now, if your eCommerce store is on any of the mentioned platforms, owning Android & iOS apps is as easy as a piece of cake. No need to get any coding knowledge or experience, just use the pre-designed plugin and launch the apps today.