Even after more than a year, there are still concerns about Corona. People are trying to spend as much time indoors as they can because they don't feel safe wandering around freely. Are you one of those people who refuses to leave the house because of the pandemic? You must use your phone for a significant portion of the day, I'm sure. You are utilizing a mobile app, whether it be for knowledge gathering, listening to music, or unwinding with Netflix.
Will you integrate a pre-made solution as-is, construct it from the ground up, or alter an existing app framework to suit your company's needs? The decision is based on a number of variables, including your mobile app development timeline, budget, and abilities. However, you can encounter some difficulties, particularly if your business is small. Of course, the first obstacle is the lack of funds and resources. You might not be able to afford or have the necessary funds to recruit a large development staff at this early stage.
So how do you launch your app with the least amount of money and resources? An already-created eCommerce app is an answer.
The idea of a ready-made eCommerce mobile app solution must be understood before moving on with the discussion.
What Exactly Is a Ready-Made Mobile eCommerce App?
A ready-made eCommerce mobile app solution is a framework that you can use to create your mobile app and is ready for integration or launch. White-label solutions are ready-made solutions that you may modify to meet your company's needs. You can create your mobile app more quickly and affordably if you use a turnkey or pre-made eCommerce mobile app solution.
A ready-made eCommerce mobile app solution is now clear to you. The benefits of a ready-made eCommerce mobile app solution will now be discussed.
A Ready-Made eCommerce Mobile App Solution has the following advantages: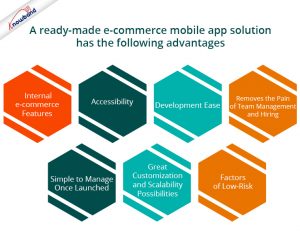 1. Internal eCommerce Features
A ready-made eCommerce mobile app solution is designed to assist startups and small companies in launching operations quickly. The reason for this is that these app solutions offer every functionality that a mobile app must have.
2. Accessibility
Small enterprises and startups favor pre-made eCommerce mobile app solutions over custom development. You can save a lot of money, which is one of the most important factors.
You may easily deploy it at the lowest possible cost by using a mobile app solution as opposed to recruiting and paying a large team of developers. This increases your profitability and returns on investment.
3. Development Ease
All the functionality you require is included in a solution that is ready for integration. Coding is not required to create any feature or functionality. Without much coding experience, you may merely choose an off-the-shelf option and construct your app.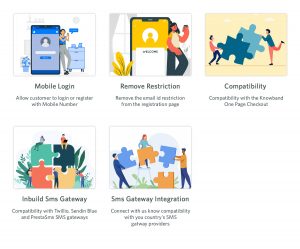 4. Removes the Pain of Team Management and Hiring
Finding and hiring the proper staff is one of the major hurdles a startup or small business encounters. To maintain and manage them, an investment of time, effort, and money are needed. There could be conflict in the management and issues with team hiring.
Your development can also be outsourced, which might be a little more advantageous than hiring developers. However, there may still be issues with leading your team and making sure that efforts for continuous improvement are in line with your objectives.
You may avoid all of these headaches by using a ready-made iOS or Android mobile app. It gives you a simple solution that you can use right now without spending a lot of money or hiring technical staff.
5. Simple to Manage Once Launched
A ready-made e-commerce app solution may be handled extremely easily, from creation to customization to deployment and post. To manage operations during the deployment process, a technically sound resource is a minimum necessity. Even when you start the app, you can manage anything with ease.
Additionally, a non-technical entrepreneur can manage the many components of an app independently or do without a large development staff in favor of a single technical resource.
6. Great Customization and Scalability Possibilities
Scalability and personalization are offered by a system that is ready for integration. A new business can take advantage of the built-in features and modify them to match its operational needs.
As your business and its requirements expand, you may also increase your app's features and functionality.
7. Factors of Low-Risk
The increased effort, spending, and investment increase risk potential. It can be a major concern if your app doesn't meet the expectations of your target clients or if additional problems arise. Correcting those problems and adjusting the features may be more difficult, take more effort, and cost more money.
On the other hand, things might be made simpler if you use an app builder to design your app for a low cost. To lessen the possibility of significant first losses, you might experiment and release your app with the fewest functionalities possible. After carefully examining the existing demand for and success rate of your software, you can later add new features as and when necessary.
Your Smart App Builder: Knowband Mobile App Builder Solution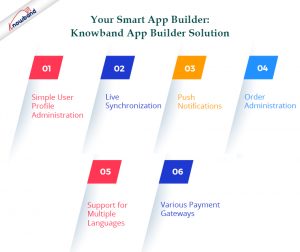 Our Knowband Mobile App Builder may be the best option for you if you are an online store owner looking to create a mobile application. It is an app framework that is prepared for integration, after which you may launch your mobile application.
1. Simple User Profile Administration
With the Knowband Mobile App Builder solution, updating personal information, managing wish lists, recovering passwords, etc. is simple. The simplicity of user profile administration improves user experience and boosts sales.
2. Live Synchronization
Real-time synchronization between your mobile app and online store is provided by our pre-built eCommerce mobile app solution. Uploading items, adding information, and making other modifications to your website automatically update the app.
3. Push Notifications
You may deliver discounts, sales, coupon codes, and other crucial updates using alerts and push notifications. Connecting with them more successfully, it helps you win over devoted clients.
4. Order Administration
Your consumers can examine their purchase history and make purchases with our app solution. Within their mobile app, they can monitor, follow, or cancel orders. It enhances the experience of the clientele.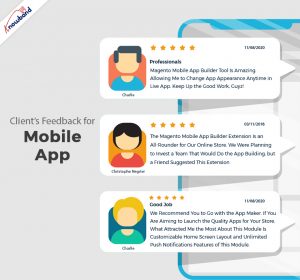 5. Support for Multiple Languages
The Knowband app solution offers support for many languages in your app to help you increase your user base. Additionally, it has Right-to-Left (RTL) format support.
6. Various Payment Gateways
Customers who use our app solution have the option to select from a variety of payment options. This enables you to make sure that any goods may be simply purchased by the buyer using their preferred manner.
Additionally, it offers social media integration, simple registration, quick loading times, fluid navigation, and other characteristics you look for in native e-commerce software.
So let's collaborate, talk about your needs, and use our pre-made eCommerce mobile app to launch your company app. Get in touch with us at support@Knowband.com to know further about the smart solution.