An application builder is a platform that permits the business to make mobile applications with no coding experience. Web services like Wix, Squarespace, and Shopify permit clients to make sites, app builders make mobile apps for iPhone and Android. App builders are important because, with time, the eCommerce business has grown so big that dominating your rivals isn't easy now.
Client commitment has always been the ultimate motive of every e-merchant. Gradually, online clients have shifted to mobile applications from websites that brought the need of having an Android or iOS application. Thus, it's really important to have your mobile app these days. Therefore, store merchants should opt for Prestashop mobile app builder.
Prestashop mobile app builder
Developing a mobile application without technical knowledge isn't easy and to simplify the procedure of developing a mobile application, Knowband offers the Prestashop Mobile app builder to store merchants. Prestashop Mobile app builder is pre-configured to simply provide store merchants with Android and iOS apps.
To use this module, store merchants need to purchase and install it on their eCommerce store. Further steps are taken care of by the Knowband development team. Knowband development team consists of the best developers which are working to create the best plugins.
Features Of Prestashop eCommerce mobile app
1. PrestaShop eCommerce Mobile App Offers Complete Control On Design
Prestashop mobile app creator offers full control on the design part to the store admin from the backend. You can easily configure the items based on the features and categories. Furthermore, the Prestashop mobile app creator allows store merchants to send seasonal offerings and promotional deals to mobile users with customized push notifications.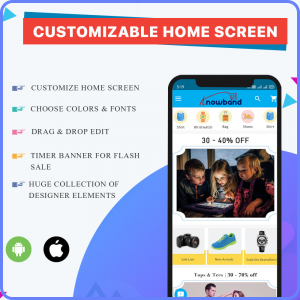 2. Prestashop Mobile App Maker Provide Easy App Configuration
With Prestashop Mobile App Creator, designing the application according to your web store becomes easier. Furthermore, this extension permits the store admin to add all payment and shipping methods. Hence, you can flawlessly manage how the client explores the application. The checkout page also guarantees a huge rise in conversion rates.
3. Prestashop eCommerce Mobile App Offers Easy Management
PrestaShop eCommerce Mobile App comes with several benefits such as easy management. Both online websites and mobile applications synchronized with one another easily. Hence, you need not stress over the simultaneous management of applications and your online eCommerce store. Moreover, the Prestashop Android and iOS mobile application developers update all the changes on the application automatically, made in online store inventory.
4. Prestashop eCommerce Mobile App Extension Offers Social Media Benefits
Customers prefer e-commerce websites that offer social media benefits. Furthermore, mobile applications with social media benefits lead to higher customer engagement. Furthermore, the Prestashop mobile app developer associates your web store with all the online media platforms through the mobile application.
5. Multiple payments and shipping options Offered By Prestashop eCommerce Mobile App Extension
Prestashop eCommerce mobile app for Android and iOS upholds all the payment and shipping techniques running on your Prestashop store. Indeed, two fundamental payment techniques PayPal and COD are incorporated in the applications.
6. User support
The extension offers user support i.e direct client support. This is likewise offered in portable applications created for Prestashop stores. Moreover, this element strengthens your bond with the purchasers as well as depicts your store before them as an expert one.
7. Easy product marketing
Product marketing is one of the toughest things to do. Keeping this concern in mind, Prestashop developers have designed this extension for making this process hassle-free. Furthermore, the Prestashop mobile app can ease your work with a direct marketing channel i.e. Push notification service. With this feature, merchants can simply market their products among huge online shoppers and gather potential users.