Customers are choosing you after you spent a lot of time convincing them to buy your goods, therefore you need to make sure that the checkout process is as simple, quick, and straightforward as possible for them. Prestashop's One Page Checkout does just that. This article explains one page checkout for PrestaShop, its features, and its advantages. It also explains why PrestaShop checkout is a wonderful approach to enhancing the user experience.
What Is a One-Page Checkout in Prestashop?
Customers can finish their full online store purchase with PrestaShop's Single Page checkout. By avoiding cumbersome registration forms, frequent confirmations, and extra checkout stages, it streamlines the purchasing process.
Your consumers may view a cart summary and change quantities without having to reload the page thanks to PrestaShop's one page checkout. Additionally, shipping prices are shown without requiring user registration.
Features of the PrestaShop One Step Checkout Addon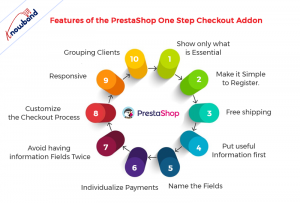 There are things to watch out for depending on the Prestashop fast checkout addon you select to integrate with your store. An overview of the most frequent features you might encounter is provided below:
Show Only What Is Essential
Set up your PrestaShop checkout so that only important information is displayed and the rest is hidden. For instance, don't include a "Tax total" part if there is no tax.
Make It Simple to Register
To cut down on registration time, allow your consumers to register using PayPal, Google, or Facebook.
Free Shipping
It can be used to encourage higher-order values. Make it clear to your customers how much more they must pay to receive free shipping.
Put Useful Information First
Make required fields for critical information, rearrange their order to suit your needs, and disable any fields that don't provide essential information.
Name the Fields
Provide your data field names that your clients will recognize and give them default values. Use Google's autocomplete feature. Provide easy alternatives for filling up forms using Google autocomplete.
Individualize Payments
Depending on the precise specifications of your customer's order and the place it is being shipped to, provide the payment alternatives that are available. Additionally, display the title, description, and preferred image option for each accepted payment method.
Avoid Having Information Fields Twice
Don't require the same data from your clients twice. Use a check box for duplication if their shipping and billing information is the same.
Customize the Checkout Process
To maintain continuity, increase recognition, and foster trust, include your brand's colors in the template. Ensure tax identification numbers are accurate before registering. Tax identification numbers, such as the DNI (national ID number) or NIF, are necessary for some purchases made in Spain (tax ID number). Make adding them simply using PrestaShop checkout.
Responsive
Your clients might make purchases using any device. PrestaShop checkout functions on desktop, tablet, and mobile devices and is fully responsive.
Grouping Clients
By establishing categories and adding your clients to groups, you may create targeted marketing campaigns. By doing so, you can divide up your consumer base and market goods and offers by how they make purchases.
Benefits of utilizing a PrestaShop module with a single page of checkout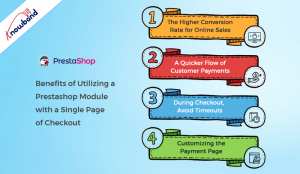 What advantages does PrestaShop's single page checkout provide your company? Let's investigate:
Higher Conversion Rate for Online Sales
It's critical to drive as many visits as you can to your online store, but it's even more crucial that they convert to buyers. Making the purchasing process simpler increases the likelihood that visitors will become customers. The Responsive one page checkout Prestashop accomplishes this.
A Quicker Flow of Customer Payments
There may be several barriers between the time your customer first sees the thing they want and the time they purchase it. Multiple page clicks and form fills can easily convert a prospective consumer into an abandoned cart.
Single Page checkout eliminates friction, expedites the payment process, enhances customer satisfaction, and reduces the likelihood that they will quit. 55% of customers will leave a cart empty if they have to enter their payment or shipping details again. With PrestaShop's one-page checkout, this won't occur.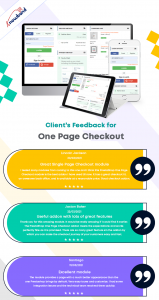 During Checkout, Avoid Timeouts
When a transaction requires you to visit many pages, system issues frequently occur. A customer could have to start over if their order runs out of time. This irritates customers, who might then leave their carts empty. PrestaShop's fast checkout addon removes this obstacle.
Customizing the Payment Page
You'll want to cater to the special wants that your customers may have. You can create the conditions required to make your customer's experience as easy and welcoming as possible by using a configurable payment page.
How to Upgrade Your Prestashop One Page's Payment Options Checkout?

By allowing a variety of payment methods in your PrestaShop store, you can optimize your sales funnel. Use a PrestaShop payment gateway like MONEI, which has an intuitive PrestaShop payment module and supports a variety of payment methods including cards, digital wallets like Google Pay, Apple Pay, PayPal, and Click to Pay, as well as regional payment options like Multibanco, SEPA Direct Debit, iDEAL, and more.
Is Prestashop's Quick Checkout Addon the Best Option for Your Company?
It's time to choose whether the Prestashop simplified checkout addon is the best option for your store now that you understand what one page checkout for PrestaShop is, how it works, how its features can help your company, and how to add more payment options to your PrestaShop checkout.
Start using Knowband's Prestashop Quick Checkout Addon:
Now is a wonderful opportunity to add more one page checkout to your PrestaShop store while you're setting up the store. In case you need any assistance or still have any doubts about the same, feel free to get in touch with us at support@knowband.com.