Affiliate marketing is a popular method of driving sales and generating significant online revenue. This is a process through which an affiliate earns a commission for marketing products belonging to another person or company. Whether it's about a brand or affiliate marketers, this method is beneficial for both of them.
The affiliate essentially looks for an item they appreciate, then promotes that certain item and acquires a piece of the benefit from the profit made from that. The sales are further tracked via affiliate links from one website to another.
Since member promoting works by the responsibilities of product marketing and creation across parties, it figures out how to use the abilities of a variety of individuals for a more effective marketing strategy while providing contributors with a portion of the benefit.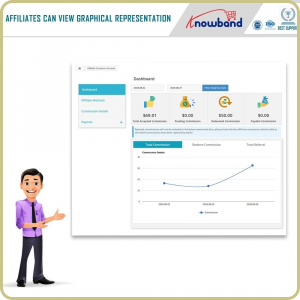 To execute such eCommerce methodologies, one such promoting device is offered by Knowband, refer to as PrestaShop Affiliate And Referral Module. Furthermore, this module is for the e-merchants who have their website created on Prestashop. PrestaShop Affiliate And Referral Module help in building partners in staggered order, one under the other. This develops your site clients and the expected leads too. Partners can refer to the brand by sharing links or voucher codes using social media or some alternate way. When another client joins the store, the affiliates get a commission for the signup and when they make an order.
Features of PrestaShop Affiliate and Referral Program
1.  Different Types Of Referral
The affiliate marketing tool 'Affiliate and Referral Program' module permits the member accomplices to welcome new clients through different methods into your store. The associate partners can acquire new clients by sharing a reference code or a referral link with them.
Affiliate marketing and referral programs likewise permit the member to generate voucher codes. Affiliate partners can share the reference link on various social media platforms such as Twitter, Facebook, Pinterest besides that.
2. Prestashop Affiliate And Referral program Addon Allows To Define referral rate for the affiliates
With the help of this addon, PrestaShop store admin can set a global referral rate for the affiliate partners for the user/ customer registration and the order placement.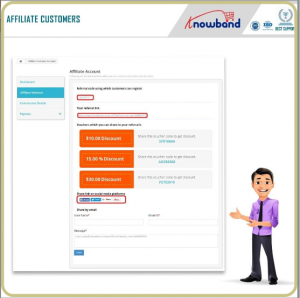 3. Provide Custom Commission
The Affiliate marketing tool for PrestaShop the 'Affiliate and Referral Program' permits the store merchants to set a fixed global reference rate for the partners which are affiliated. This feature allows the store admin to customize this for each unique affiliate.
4. Provide Voucher For Affiliates On Registration
PrestaShop Affiliate Marketing Module permits traders to assign a coupon when a successful user registration occurs for the affiliates. The store admin can decide the value of the voucher which can be further offered in the form of a fixed discount or a percentage basis. Prestashop Affiliates module comes with an option to define the total quantity of vouchers and the limit of vouchers per user.
5. Set validity for your referral program
The Affiliate marketing and Referral Marketing addon offer the option to run a particular reference program for a certain period. If you characterize a period, the reference code will get expire after the specified period.
6. Keep an eye on registered affiliates
With the Affiliate and Referral Marketing module, store admin can insight into registered affiliates. The store merchants can also look into details under the 'Affiliate Customer' section.
Benefits of Referral and Affiliate Marketing Tool
1. Promote Brand Awareness
Prestashop Referral Program Addon also helps store admin in promoting their brand's name by arranging a multi-level affiliate program in the eCommerce website store.
2. Offers Refer And Earn Opportunity
Prestashop Referrals plugin provides customers a unique way of earning. Moreover, this unique way of earning is, displaying an option to "register an affiliate" on the website.
3. Collect Email Subscribers
With more registration, you can get more email endorsers. Furthermore, the information can be additionally utilized for email marketing strategies. The Affiliate and Referral Program is a support to the expense of advertising.
4. Enhances Conversions
Prestashop Affiliate and Referral module enhance conversion rate. Usually, when the referent purchases a certain product using the voucher code leading to more conversions and sales. Furthermore, offering exciting incentives to the affiliates encourages them to bring more customers.
Conclusion
Thus, the 'Refer and Earn' program helps eCommerce store owners in bringing new clients to their store. Affiliate marketing and a Referral program help store merchants to grow their PrestaShop business. Hence, we suggest Knowband 'PrestaShop Affiliate and Referral Program' addon. Besides, this plugin increases its client base effectively.